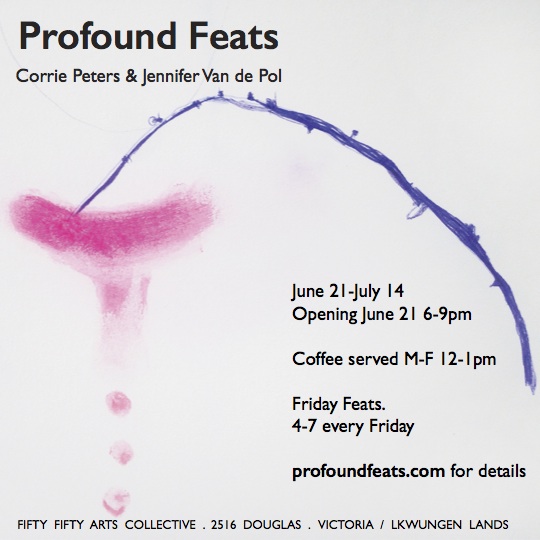 Profound Feats is a collaboration with Jennifer Van de Pol. We are excited to invite you to come witness or participate in this evolving exhibition at the fifty fifty arts collective on Lkwungen land in Victoria BC.
Please check our website: profoundfeats.com for updates to the schedule.
Some events we are organizing:
Coffee served in the gallery:  M – F : noon – 1pm for the duration of the exhibition. Come on by.
FRIDAY FEATS:  Every Friday from 4 – 7pm
An invitation to fall into your body with us. Join us for one or all.
June 22 – Jam making.
We will have all supplies and bread to share.
You are welcome to bring a jar to take some home and berries to add to the recipe.
June 29 – Neck Yoga.
Jennifer is a certified Iyengar Yoga Instructor, (a 3.5 year certification process). She has your safety and well-being in mind.
July 6 – Throwing things. Feeling anger.
In conversation Corrie and Jennifer imagined a safe space to feel and enact their anger. This feat invites you to join us in that space.
July 13 – A space of listening. (For those who want to be heard.)
Be welcomed as you are, and be heard.